Nouvel album de GLORYHAMMER "Legends from Beyond the Galactic Terrorvortex" – Sortie prévue le 31 mai 2019
Nouvel album de GLORYHAMMER
"Legends from Beyond the Galactic Terrorvortex"
Pré-commandes en ligne  !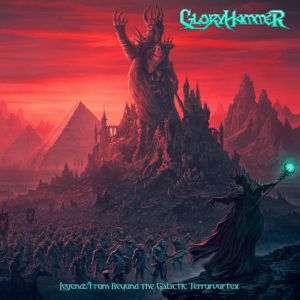 L'album sortira le 31 mai 2019 chez Napalm Record en partenariat promotionnel avec Sounds Like Hell Productions
L'extraordinaire troisième chapitre de la saga GLORYHAMMER :
Incontestablement le meilleur album Power Metal de tous les temps ! 
Puissants guerriers de la galaxie, l'heure est venue : GLORYHAMMER ont forgé leur troisième album ! Le nouveau chapitre des aventures héroïques de l'équipe menée par la tête-pensante Christopher Bowes (ALESTORM) nous attend ! Les espions envoyés par l'Empereur Zargothrax sont partout, et c'est la raison pour laquelle ce nouvel opus a été secrètement enregistré dans un lieu mystérieux au coeur des montagnes écossaises par le producteur Lasse Lammert.
De puissantes fanfares guident l'auditeur dans son périple à travers le Terrorvortex – et seuls les guerriers les plus courageux parviendront à sortir de ce maelström, vêtus de Power Metal triomphant et entourés d'orchestrations épiques. Pourrait-il exister un endroit plus hypnotisant et plus enchanteur que le glorieusement symphonique "Land of Unicorns" ?  Nous en doutons. POUR LA GLOIRE ETERNELLE DE DUNDEE ! 

Voici donc la liste des titres de ce nouvel opus :
1- Into the Terrorvortex of Kor-Virliath
2- The Siege of Dunkeld (In Hoots We Trust)
3- Masters of the Galaxy
4- The Land of Unicorns
5- Power of the Laser Dragon Fire
6- Legendary Enchanted Jetpack
7- Gloryhammer8Hootsforce
9- Battle for Eternity
10- The Fires of Ancient Cosmic Destiny
         I: Dundaxian Overture
                       II: The Battle of Cowdenbeath
                                            III: Return of the Astral Demigod of Unst
      IV: The Knife of Evil
V: Transmission
A noter que les héros autour d'Angus McFife XIII ont recruté un orchestre intergalactique pour créer une version symphonique de l'intégralité de l'album. Il sera ajouté comme album bonus à certaines éditions de "Legends from Beyond the Galactic Terrorvortex".
"Legends from Beyond the Galactic Terrorvortex" sera disponible aux formats suivants : 
LTD Coffret Deluxe en bois 

Coffret Digipack
Vinyle 7″ du single (incl. un bonus exclusif)
Médaille de héros
Drapeau (150x100cm)
Photo sur papier cartonné
Version symphonique de l'album inclue

Coffret double Vinyle OR

Version symphonique de l'album inclue
Edition limitée à 200 exemplaires

Coffret double Vinyle ROUGE

Version symphonique de l'album inclue
Edition limitée à 200 exemplaires

Coffret double Vinyle NOIR

Version symphonique de l'album inclue

Coffret double CD

Version symphonique de l'album inclue

CD Simple
Cassette – Edition limitée à 200 exemplaires
Pour pré-commander le nouvel album de GLORYHAMMER, c'est par ici chez Napalm Records : https://gloryhammer.napalmrecords.com/
Retrouvez GLORYHAMMER via les liens de leurs pages Officielles :
Facebook : https://www.facebook.com/gloryhammer/
Site Officiel : https://gloryhammer.com/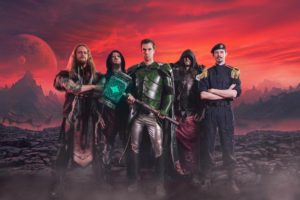 LES DATES DE LA PROCHAINE TOURNÉE EUROPÉENNE DE GLORYHAMMER
Dates avec Beast In Black et Wind Rose
18.10.19 UK – London / Heaven
19.10.19 UK – Manchester / Club Academy
20.10.19 UK – Bristol / Swx
22.10.19 UK – Birmingham / The Mill
23.10.19 UK – Nottingham / Rescue Rooms
24.10.19 IE – Dublin / Academy
25.10.19 UK – Glasgow / Slay
26.10.19 UK – The Mighty City Of Dundee / Church
Dates avec Powerwolf
08.11.2019 LU – Esch zur Alzette, Rockhal
10.11.2019 NL – Tilburg, O13
12.11.2019 DE – Cologne, Palladium
13.11.2019 DK – Copenhagen, Amager Bio
16.11.2019 SE – Stockholm, Fryshuset
17.11.2019 SE – Gothenburg, Traedgarn
20.11.2019 EE – Tallinn, Rock Cafe
27.11.2019 RO – Bucharest, Arenele Romane
28.11.2019 BG – Sofia, Music Jam
29.11.2019 GR – Athens, Piraeus 117 Academy
30.11.2019 GR – Thessaloniki, Principal Club Theater
Une production Napalm Records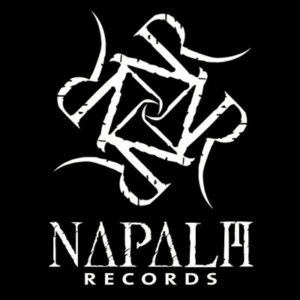 Facebook : https://www.facebook.com/napalmrecords
Site Officiel : https://www.napalmrecords.com/
Partenaire promotion France, Sounds Like Hell Productions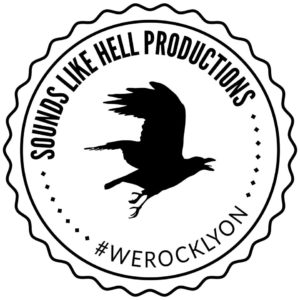 Facebook : https://www.facebook.com/slhproductions/